Announcements
The Department's eCycling commercials.  
The Department's 15-second eCycling Television Commercial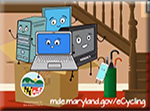 The Department's 30-second eCycling Television Commercial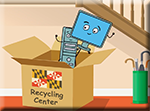 The Department's 15-second eCycling Radio Commercial
Electronic Collection and Recycling Grant Program for Counties and Municipalities
Counties that have addressed methods for the separate collection and recycling of computers and video display devices in their solid waste management plans and municipalities for local computer and video display device recycling programs are eligible for the grants under the Statewide Electronics Recycling Program.
No eCycling grants are currently being offered.  Details and forms on eCycling grants, when available, are available in the County Coordinator Resources Section of the Department's Waste Diversion web page.​​
How to eCycle in Maryland
Electronic Manufacturers that will recycle my old electronic device for free.
Maryland's eCycling legislation requires CED manufacturers to register with MDE annually, and in certain circumstances pay an annual registration fee, in order to sell their products in the State. Part of Maryland's eCycling legislation enables manufacturers to qualify for a reduced annual renewal registration fee by offering Maryland customers free takeback of their end-of-life CEDs. MDE encourages Maryland CED customers to take advantage of these manufacturer takeback programs when disposing of their end-of-life CEDs.
Registered manufacturers whose listing includes a toll-free telephone number or web link have a MDE-approved takeback program and offer free takeback of their CEDs. Details of the takeback program are available by calling the toll-free telephone number or going to the manufacturers web page. If you feel that the manufacturer is not fulfilling the responsibility relating to the takeback of their old CEDs, please contact MDE to report and detail the problem.
In addition to manufacturer takeback programs, the following also exist to recycle your old CEDs. Inclusion on this list does not constitute endorsement by MDE. Please be sure to contact the company for information or clarification about the services offered, hours of operation, specific requirements, and current charges.
Finally, some Maryland counties also offer recycling of end-of-life electronics for their residents. Some of the money received from manufacturer registrations is used as grants to Maryland counties and municipalities to support their eCycling programs. Please contact your County for details on their programs.
Community eCycling Residential Collection Events
 

eCycling Collection Events occur throughout the year in many different Counties. Listed below are special eCycling events that have been reported to MDE by Maryland jurisdictions. Upcoming special events include:

Currently no events have been reported to the Department. Make sure to check other resources on this page.
 
Permanent Collection Sites for Residents
Unless otherwise noted, all permanent sites are only open to residents of the County or City listed.
Allegany County
301-777-5933
Website
Annapolis, City of
Public Works Operation Center, 935 Spa Rd.
Monday thru Friday, 7:30 a.m. to 4 p.m.
Website
Anne Arundel County
410-222-7951
Website
Baltimore City
See website for locations and times. For more information, please call 410-396-4511 to contact the Baltimore City Office of Recycling.
Accepted items include televisions, computer monitors, desktops, laptops, printers, scanners, DVD and VCR recorders, cell phones, PDAs, tape recorders, keyboards, mice, external disk drives, computer speakers, modems, remotes and cables.
​Baltimore County
Central Acceptance Facility & Western Acceptance Facility
Monday thru Saturday 7 A.M. to 4 P.M.
Monday

 

thru

 

Saturday

 

7:30 A.M. to 3:30 P.M.
410-887-2000 (Baltimore County Call Center)
Accepted items include VCRs, DVD players, computers, mice, keyboards, cell phones, power supplies, laptops, scanners, computer cables and cords, stereos, answering machines, and other home electronics. NO TVs , monitors and appliances.
Website

Calvert County
See website for locations and times.
Call 410-326-0210 for information.
Computers, monitors, keyboards, mice, printers, computer speakers, CPUs, PDA's power supplies, laptop computers, scanners, computer cables & cords, circuit boards, chips and cards, fax machines.
Carroll County
Northern Landfill
Monday thru Friday 7 A.M. to 4:30 P.M.
Saturday 7 A.M. to 3 P.M.
410-386-2510
Computer Speakers, Central Processing Units, Computer Mice Keyboards, Cell Phones, PDA's, Printers, Power Supplies, Laptop Computers, Scanners, Computer Cables and Cords, and Miscellaneous Circuit Boards, Chips and Cards.
Website
Cecil County
410-996-6275
Website
Charles County
Charles County Municipal Landfill (Billingsley Road, Waldorf)
Mon – Sat 7 A.M to 7 P.M.
301-932-3599
Computers, monitors, peripherals, TVs, telephones, cell phones & PDAs, printers, copiers, stereos, VCR & DVD players, camcorders, CD players, fax machines, projection equipment, calculators, scanners, electronic typewriters, consumer electronics, electronic toys, and microwaves.
Website
Frederick County
Citizen's Convenience Center at the Frederick County Municipal Landfill
301-696-2985
Website
Garrett County
2 sites: Webers & Bumble Bee sites
Monday-Friday 7 A.M. to 6 P.M.
Saturday 9 A.M. to 6 P.M. 
Sunday 12 P.M. to 6 P.M.
Contact: Kimberly Madigan 301-387-0322
Accepted items include: answering machines, computers, copiers, cell phones, CD players, camcorders, cables/cords, calculators, CD burners, DVD players, digital cameras, docking stations, electric typewriters, electric wire, fax machines, game systems, hard drives, keyboard/mouse/peripherals, laptops, monitors, medical electronics, microwaves, network hardware, printers (and ink cartridges), projectors, PDAs, pagers, power supplies, projection equipment, plotters, phone systems, remote controls, servers, speakers, scanners, stereos, software, security equipment, tape players, TVs, telephones, two-way radios, tape drives, UPS systems, VCRs, zip drives.
Greenbelt, City of
240-542-2153
4 Collection events per year
Website
Harford County
Harford Waste Disposal Center (Scarboro Landfill)
410-638-3417
Computers (NO monitors) and peripherals
Website​
Howard County
Alpha Ridge Landfill
410-313-7678
Computers and peripherals, monitors, and TVs.
Website
Midshore Counties (Caroline, Kent, Queen Anne's, Talbot)
See website​ for locations and times.
Call 1-800-473-2925 for information.
Montgomery County
Shady Grove Transfer Station
240-777-6410
Computers and peripherals, CD players, cell phones, calculators, camcorders, consumer electronics, copiers, cords & cables, digital cameras, DVD players, electronic toys, electric typewriters, fax machines, microwave ovens, monitors, PDAs, printers, projection equipment, scanners, small electric appliances, stereos & speakers, telephones, TVs, VCR players. Please recycle all large appliances with electronic components at our scrap metal recycling site which is located near the office trailer. Commercial quantities are not accepted. Large institutions wishing to recycle TVs can make other arrangements with the County.
Website
Prince George's County
Brown Station Road Landfill
301-883-5045
Computers & peripherals, monitors, fax machines, cell phones, radios, stereos, TVs (non-console), scanners, copiers, pagers, VCRs
Website
St. Mary's County
301-863-8400
Website
Salisbury, City of
410-548-3177
Curbside collection event in January of each year
Website
Somerset County
See website for locations and times.
Washington County
Forty West Landfill
240-313-2796
Small fee applies, call for details.
Website

Wicomico County
Newland Park Landfill
410-548-4935
(Monday – Friday)
Website​
Worcester County
Central Site Landfill
410-632-3177
Website​
Maryland's Statewi​de Electronics Recycling Program​, Sections 9-1727 to 9-1730 of the Environment Article, Annotated Code of Maryland (definitions in Sec​tio​n 9-1701) require certain electronic manufacturers to register annually with the Maryland Department of the Environment and pay an annual registration fee if they sell or offer for sale electronic devices covered by Maryland's eCycling legislation (CEDs) in Maryland.
A reduced annual registration fee is available, after the initial registration, if a manufacturer has a Maryland Department of the Environment-approved take back program for all of their products covered under Maryland law. An approved take back program must be free, including providing, at no cost to the returner, a method of returning a CED to the manufacturer and include educational and instructional materials relating to the destruction and sanitization of data from a CED.
A Manufacturer may not sell or offer for sale to any person in the State a new CED unless the CED is labeled with the name of the manufacturer and the manufacturer has registered with and, if applicable, submitted a registration fee to MDE. Registrations are due by March 1st of each year. The Department recommends that a registration be submitted 30 calendar days prior to the deadline to allow for processing by the Department. 
A retailer may not sell or offer for sale to any person in the State a new CED manufactured by a manufacturer, unless the manufacturer has registered with the Department.
Manufacturers and retailers who fail to comply with the Maryland's eCycling law are subject to a ci​vil penalty, not exceeding $10,000, and an a​dministrative penalty​ up to $10,000 for each violation (each day a violation occurs is a separate violation), but not exceeding $100,000. In addition, MDE may assess against any retailer that violates the law a fine up to $1,000 for each violation, but not exceeding $10,000 total.
Inclusion on this list does not constitute endorsement by the Department. Please be sure to contact the company for clarification about the information provided and the services offered.
For more information on eCycling in Maryland, please email David Mrgich.​​​