Installing applications with Software Center
What is Software Center?
Software Center is UCA's official portal for distributing software to UCA-owned computers and is the preferred method for installing software on campus. All applications in this portal are confirmed safe and malware-free. All Windows computers joined to UCA's Active Directory domain have Software Center installed.
If there is an application you would like added to the list in Software Center, contact the IST Help Desk.
Installing software
Windows 7: From the Start menu, click to expand the folders Microsoft System Center and Configuration Manager. Then click Software Center to open it.

Windows 10: From the Start menu, click to expand the folder Microsoft System Center. Then click Software Center to open it.

NOTE: If you do not see Software Center on your UCA-owned computer, contact the IST Help Desk.
Click the tab Applications on the left.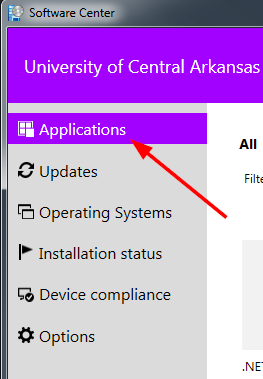 NOTE:
Some computers' version of Software Center may have an interface with a blue-colored menu (instead of purple). If your computer's version looks like this, click
Available Software
.

Click the application from the list that you wish to install.
Click the button Install. This is will begin the installation process.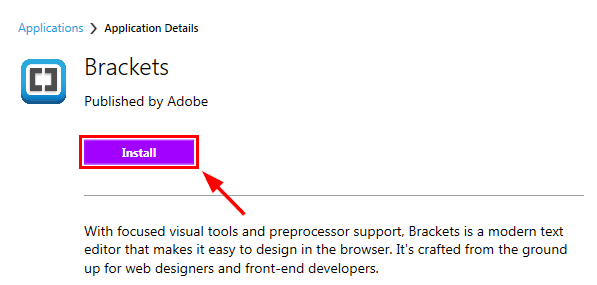 To uninstall an application previously installed through Software Center, repeat the steps above and click the button Uninstall.
Software Installation Failures
Software installation may fail for many reasons.  In the bottom software description pane you can click on the failed hyperlink for more info.
Then click the more info expansion area to see error codes.
Software Center Errors
0x87D00213
0x87D00324
0x87D00325
0x87D00607
0x87D01201
0x80091007
0x80041001
0x87D01106
0x87D00443
0x87D00213(-2016411117)
Install took longer than allowed.
Try install again usually associated with installs that require user input to complete.
Review install logs.
0x87D00324(-2016410844)
The software package installed successfully, but a software detection rule was not found.
This can indicate a problem with the install even if the install reported success.
0x87D00325(-2016410843)
The software package uninstalled successfully, but a software detection rule was still found.
This can indicate a problem with the uninstall even if the install reported success.
You can alternatively uninstall from Windows Apps & Features or Programs and Features
0x87D00607(-2016410105)
Unable to Download Software
Check network connection and if not on a UCA IP address you may need to VPN.
Server version may have changed and a machine policy refresh is needed.
0x87d01201(-2016407039)
Unable to download install because hard drive is full
Remove programs or files to free space on hard drive
0x80091007(-2146889721)
Hash value incorrect
Fix is to clear the SCCM Cache using the configmgr applet
Wait a minute then delete all folders in the c:windowsccmcache folder
If you continue to receive the same error something may be interfering with the download.  Check for third party AV and Malware software.
0x80041001(-2147217407)
SMS Agent Host service not running (ccmexec.exe)
Start SMS Agent Host service

This could also mean something is really wrong with the SMS Agent Host service.  You can reboot to see if that resolves it, but an uninstall/reinstall would be the solution if the problem persist.

Close Software Center
Wait about 1 minute or until ccmexec.exe uses more than 7mb of ram.
Launch UCA Software Center
0x87D01106(-2016407290)
Content is not available on Distribution Point
0x87D00443(-2016410557)
An Application conflict is occurring.  Please close the conflicting application to continue.
If you do not know the program try restarting and running the install before opening an apps.
Unable to make changes to your software
The software could not be found on any servers at this time.
Press F5 to refresh list.
Check network connection and vpn connection.
Disconnect and reconnect to vpn, reboot, or sometimes you can wait a minute or two.
Was this helpful?

Yes   No